Vice President
Richard McSpedon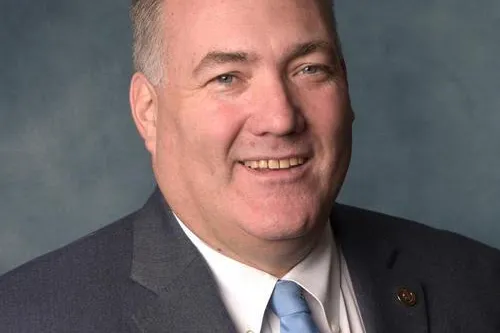 rmcspedon@local3ibew.org
IBEW #3
Richard F. Mc Spedon. Jr. was born to Richard and Anne Mc Spedon in 1968 in Yonkers, NY. He lived on Hastings on the Hudson with his two sisters and a brother before marrying his wife on nineteen years, Maura. They now reside in Pleasantville, NY with their four children-Molly, Jack, Claire and Dermot. He is active in his Community as both a Little League and CYO Coach. Richard graduated from Archbishop Stepinac High School in White Plains in 1986. He then attended Coastal Carolina College in South Carolina before being sworn in as a member of Local Union No. 3, IBEW in July 1992.
He worked in both Supply Division in Midtown Electric, Tremont Electric and in the ADM Division for L.K. Comstock before entering our Apprentice Program where he graduated from Harry Van Arsdale, Jr. School of Labor Studies at Empire State College (SUNY) in March 1998. He went onto be a Journeyman and Sub-Foreman.
In 2002, he became a Shop Steward and has worked with seven Business Representatives in the Bronx, Midtown and in Transit where he was last positioned at the World Trade Center Transit Hall.
He belongs to several Affiliated Clubs of Local Union No. 3 -Bronx Acorn Club, Catholic Council, Colony Club and the Westchester Mechanics Association where he was president from 2003-2006.
In 2006, he was nominated and elected to the Executive Board of Local Union No. 3 which represents 30,000 members, a position he held thru elections for 10 years. In 2015, he was honored by the Staten Island Electrical Club as their Man of the Year.
In 2016 he was appointed to Business Representative of Southern Westchester and is delegate of the Westchester Putnam Building and Construction Trades Council, as well as a Vice President of the Westchester Putnam Central Labor Body (AFLCIO).
He was a delegate of the 38th IBEW Convention in 2011 and a Delegate/Sergeant at Arms in St. Louis at our 39th IBEW Convention this last September. In 2017 he became a member of the Sustainable Port Chester Alliance (S.P.C.A.).
In December of 2017, he was appointed to Westchester County Executive elect George Latimer's Transition Team.
In March of 2018 he was named Allied Union Club of Queens Man of the Year.
Richard Mc Spedon has been active in trade union issues and political campaigns throughout the twenty-seven (27) year career.